А у нас там, оказывается, закончился the wackiest бэт-сериал всех времен. И закончился, как жил. Ниже, возможно, спойлеры, но кому они что испортят?
В тизере Бэтмен спасает Линкольна от стимпанкового Джона Уилкса Бута.
В основном сюжете Бэт-Майту The Brave and the Bold наскучивает, и он решает при помощи своих способностей испортить шоу и добиться его закрытия. Но на его пути встает... Амбуш Баг! *драматическая музыка*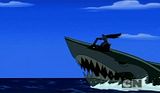 Holy sharkjumping, Batman!
( Прощальные бэт-скриншоты )